Thinking about living in Denver? You nature nut, you.
Denver's famed ski slopes and beautiful, mountainous landscape are potentially the biggest draw for folks moving to Denver.
This intriguing combination of big-city amenities and culture, and natural beauty, draws upwards of 17 million visitors a year.
But, it has also inspired an upward trend in the numbers of people who are moving to Denver as well.
If you're thinking about moving to Denver, it's important to consider all of the pros and cons of daily life in Denver, and that's where I come in.
I've lived in Denver for the past three years and wanted to provide a personal list of the pros and cons of living in Denver to make your decision easier.
As you read this list, please keep in mind that this is a personal list. Not everyone will feel the same way and that's alright! 🙂
---
Pros & Cons of Living in Denver
It's easy to see the appeal of living in Denver. A big city set amongst the jaw-dropping mountains, what's not to like? Let's cover the perks of moving to Denver first.
This post is part of the Local Living Series, wherein locals share honest insights of living in a specific city through comprehensive pros and cons lists. If you'd like to reach out to the author directly with questions, please do so in the comments below and our team will ensure it gets to the right person.
---
Pros of Living in Denver
Thinking about visiting Denver before the big move? Here's the best hotel I've found, this is the spot I recommend to my own family and friends.
---
#1. Denver is downright beautiful
The "Mile High City" is best known for being situated at the base of the Rocky Mountains, it's also a thriving city with a culture and a feel all its own.
There's no denying that living in Denver means constant exposure to beautiful landscapes, largely thanks to the backdrop of the Rocky Mountains.
But it gets better. You'll have access to incredible nature while getting all the perks of a major city — like art museums, public parks, breweries, great restaurants and ample shopping.
Not to mention the rich history of the city, which is celebrated through rodeos and the National Western Stock Show, which have been held every January for the past 115 years.
Admittedly, the beauty is one of the first things that attracts many people to move to Denver. Boasting more than 200 breathtaking mountain peaks and more than 100 panoramic miles of stunning vistas, this beautiful city is a sight for sore eyes.
---
#2. Colorado is a nature lover's paradise
Touching on the last point, living in Denver is guaranteed to satisfy the needs of nature lovers.
You don't even need to leave the city limits to get your fill of outdoor adventure. You can find incredible bike paths all over the city, including my personal favorite — the Cherry Creek Trail.
If you're into water sports, we have that covered too. Head to the South Platte River for some urban white water rafting and an adventure you won't soon forget.
The point is, regardless of what you consider your ideal adventure, there's something waiting for you when you move to Denver.
Everything from world-class mountain climbing, excellent hiking, skiing, you name it. In fact, many pro and amateur athletes move to Denver specifically to have close access to outdoor recreation.
Further Reading: These 4 Colorado National Parks are Worth a Visit
---
#3. Constant sunshine
One of the biggest perks of living in Denver is not having to plan around bad weather. Denver has an arid desert landscape and gets more sunshine per year than most US cities.
In fact, Denver averages 245 days of sunshine per year, exceeding the national average of 205 days. The sunshine continues even through the cold winter months, which makes winter sports far more enjoyable.
Oh, lest I forget, yet another bonus of the arid climate is the lack of humidity during summer. I can't overstate this perk enough, especially after spending one summer in NYC.
---
#4. The cost of living in Denver is reasonable
Make no mistake, Denver still has a heated housing market, but by and large the overall cost of living in Denver is still rather reasonable compared to other US cities. By and large, housing will take the biggest chunk of your change, with average home prices starting at $600,000.
In addition to the pricey housing market, Denver's rent prices have also been booming. In fact, rent prices for Denver apartments have risen nearly 16% over the past year. Currently, the median rent stands at $1,474 for a 1-bedroom and $1,806 for a 2-bedroom.
Outside of housing though the cost of essentials such as gas, utilities, groceries and entertainment still lag substantially behind many larger cities. For example, similar expenses in San Francisco can run up to twice as much!
Even healthcare, which is top-notch, runs about 17% below America's national average."
---
#5. Denver is a great city for millennials
The influx of new residents streaming into Denver consists largely of young people, which has resulted in a blossoming art and food scenes.
You'll find a plethora of activities that cater to millennials, like top-notch breweries, phenomenal restaurants, small local shops, epic street art and great museums.
More than 23% of the population consists of millennials, making it one of the best cities for millennials in the country.
So if you're looking for a city with a younger attitude, that is open to many types of lifestyles and welcoming to younger parents, moving to Denver is a great option.
---
#6. A thriving beer and food scene
Foodies rejoice! Denver's food scene has been up and coming for some time now, and as more young people and food entrepreneurs move in, the number of quality restaurants will only continue to grow.
Denver also has one of the largest craft beer scenes in the nation, with more than 150 craft breweries operating in within the city. So don't act surprised next time you see it on a list outlining the best brew cities in the country.
Beer tours are quickly becoming a top item on many Denver visitors' lists for this very reason, and events and tastings that target beer enthusiasts are everywhere.
It's predict that Denver will continue to be a major beer-drinkers' destination for the foreseeable future, the perks of moving to Denver just keep adding up!
---
#7. Mild winters
Winters in Denver tend to be mild, with daily temperatures ranging between 45-60°F. The city is no stranger to snow, with average snowfall varying between 6-10 inches per month during the winter season.
I've had impassioned discussions with coworkers about the snowy conditions while living in Denver. To my surprise, there never seems to be clear consensus! According to stats, Denver typically gets 56.5 inches of snow each winter.
The pickle is that many coworkers are convinced this can't be true, but I could see why. Snow doesn't seem to linger too long and melts off pretty fast. Everyday life resumes to normal within hours of fresh snowfall, so it doesn't feel like we get that much snow (to them, that is).
And I must admit, compared to other places I've lived, snow days in Denver feel warmer and more enjoyable. That glorious sunshine still pokes through!
So if you're a fan of having all four seasons, living in Denver will suit you.
Worth mention: If you plan on moving to Denver long term, it may be useful to pick up winter sports to make the winter go by faster. Folks flock outside during all seasons of the year, you don't want to be cooped up at home.
---
#8. Great location
Denver is located within a day's drive to some epic places, especially for those that enjoy world-class adventure sports like mountain climbing.
In fact, for the mountain-loving types, Denver is within a day's drive of 58 mountains with peaks reaching 14,000 feet.
If you get tired of the mountains, not only does Denver – believe it or not – have its own beaches and swimming holes, you can also experience desert landscapes within a short drive out of town. There are several other large international airports on the west coast, making for easy connections for international flights.
---
#9. Excellent job market
As young city Denver is on the leading edge of technology and plays host to many giant tech companies like Google and Lockheed Martin.
For those starting out in tech, the combination of a booming economy and a lower cost of living make Denver a very attractive choice.
This expanding tech market contributes to Colorado's rank as number 12 among states with the highest median income.
---
#10. The sports culture
If you're a fan of pro or amateur sports, you will never lack for entertainment while living in Denver. With eight professional sports teams, you'll find someone to root for year round.
Denver has all the major leagues covered – NFL, NBA, MLB – but also plays host to smaller sports leagues such as rugby, lacrosse and roller derby. For those who want to play sports, amateur and rec leagues abound!
---
#11. Great educational opportunities
The city of Denver offers abundant educational opportunities, both in its high-ranked and innovative public school choice program, and in the wide selection of museums and cultural offerings.
Denver is home to several universities, including The University of Colorado-Denver, which is ranked number 85 among U.S. institutions.
The state of Colorado is currently ranked as the 5th most educated in the country.
---
#12. Recreational marijuana is legal
This may not be a pro for everyone, but for those who indulge in recreational or medicinal marijuana use, legalized marijuana is definitely a perk of living in Denver.
At present, only a few states allow recreational use of marijuana, which Colorado legalized in 2012. The herb and various formulations which contain its active ingredients, are readily available and affordable and may be enjoyed without fear of legal reprisal.
---
Cons of Moving to Denver
Moving to Denver has its advantages, to be sure. But, before you make the move, you should carefully consider all the possible disadvantages of living in Denver.
Here's a quick list of the cons of living in Denver to take into consideration.
---
#1. High altitude adjustment
Denver sits at an altitude of more than 5,000 feet above sea level, earning it the moniker of The Mile High City.
While this makes for amazing views, it can also be quite challenging to adjust to for some people that move to Denver.
You'll need to allow time to acclimate to the higher climate and the thinner air that goes with it. Some people suffer from altitude sickness, which can be quite unpleasant, though generally fades away as the body adjusts.
What's more, exercising in high altitudes is challenging and will require further adjustments. This extra step can be seen as a disadvantage to daily life in Denver, especially during the adjustment period.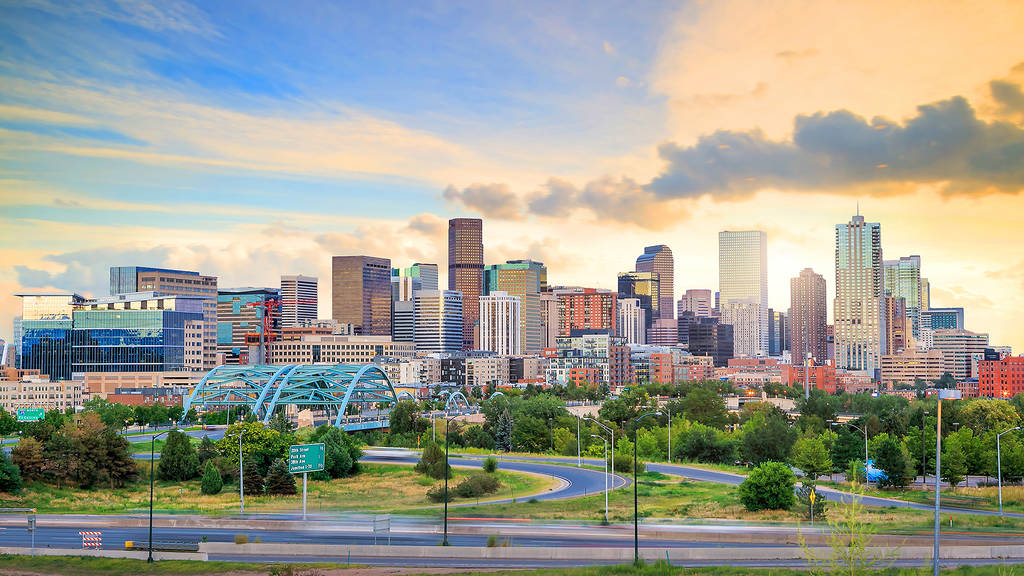 ---
#2. Rising housing costs
Although not as expensive as some of the top cities such as Los Angeles, San Francisco, and New York, housing costs in Denver still exceed the budgets of many households of average means.
While tech jobs or higher-paying positions can support the going rent rates, many families are forced to live further outside of the city where rents and housing costs are lower.
The cost of housing within the city of Denver currently sits at more than 30% above the national average. The rapidly growing population further complicates this matter.
With average home listing prices at $530,000, moving to Denver to buy a home may take some finessing. In fact, Denver currently has the 10th highest home prices in the country.
---
#3. Lack of public transportation
The truth of the matter is, it will be very hard to get around using without a car while living in Denver.
Although the city does offer public transportation via bus and ligh-trail, they have limited range that doesn't extend much beyond the city's center.
Also, using the public transportation while living in Denver adds substantially more time due to infrequently scheduled routes.
Families living on the outskirts or suburbs of Denver have little to no access to public transportation and commuting even small distances via bike or walking may be impractical or impossible during the snowy season.
As much as I hate to admit it, you simply can't move to Denver without a car — especially if you plan to take advantage of the outdoor recreation.
---
#4. Nightmare traffic
As mentioned, Denver averages about 17 million visitors per year, which means there's a lot of folks vying for the highway and city streets.
The main east-west road into Denver runs through the mountains. With a constantly growing population, both within the city and the surrounding suburbs, traffic is becoming more and more congested.
As such, Denver is rated the 21st worst city in the nation for traffic, with commuters frequently getting stuck in long delays. There have been reports of worst-day-commutes of up to several hours, with an average commute lasting one to one and a half hours.
---
#5. Long winters
For snow fans, Denver can be a dream. But even the hardiest of winter-lovers can get tired of what may seem like an endless amount of snow. Simply put, it snow too damn much and it gets exhausting.
The snowy season in Denver can run from anywhere in November thru April. Which means 6 months of the year are spent in snow.
In addition to snowstorms, the winter season plays host to hail and thunderstorms that test even the most enthusiastic of winter soldiers.
Oh, and don't even get me started on the inevitable damage the constant snowfall has on your car. A garage is non-negotiable, but adds to the overall expense of living in Denver.

---
#6. Increasing size and population
As I've mentioned several times, Denver is currently experiencing serious growth. There's many positive aspects to a growing city, but there's also a handful of growing pains.
The traffic situation continues to worsen with the growing population, a problem that has also contributed to increasing levels of smog in the city.
Additionally, the increasing population means a dwindling market of available housing properties, which may continue to drive up prices for some time to come.
If you can't stand living in a crowded place, moving to Denver may not be a good option for you.
---
#7. Infrastructure issues
Denver is technically a smaller city that has rapidly morphed into a larger one, which has created problems, especially with infrastructure, as the city tries to keep up.
Roads, water systems and electric grids are just a few of the industries which are struggling to catch up with the influx of people moving to Denver.
The increased attention on infrastructure could ultimately lead to higher taxes to address these issues. Not to mention the current delays and frustrations caused by the aging infrastructure.
---
#8. Sport-oriented culture
The culture of Denver is heavily focused on the outdoors and sports. For those who aren't into athletics or outdoor recreation- whether rooting for a team or participating – it can be a difficult place to break in and make friends.
It may seem that every activity revolves around either doing outdoor activities or going to sporting events. So if you're moving to Denver without family or friends in tow, you may find it challenging to befriend folks. Be prepared to step out of your comfort zone!
---
Pros & Cons of Moving to Denver (Post Summary)
In sum, some of the biggest pros and cons of living in Denver are:
Picturesque landscapes
Sunshine
Access to a wide variety of outdoor recreation
Legalized marijuana
Abundance of sunshine
Reasonable cost of living
Thriving restaurant and beer scene
Prime location for travel
Promising job market
Quality education
Sports culture
High altitude
Rising housing costs
Lack of public transportation
Traffic congestion
Long winters
Crowding
Infrastructure issues
One-track sports-oriented culture
There you have it, a few of the pros and cons of living in the mile high city of Denver, Colorado. As an up-and-coming city, it is one that has many of the advantages of a large city with a peaceful, natural way about it that appeals to many.
Cheers!